Big PST Split Process Talking of Efficiency with Ease!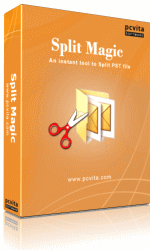 If you are facing slow Outlook speed and performance issue and if you fear approaching corruption due to exceeded 2 GB ANSI PST file size limit; then, the solution that rests with you is to perform big PST split process. To split big PST file into smaller sized PST files, we provide you an efficient big PST split tool, which is easy-to-use and simple to work with. It is PCVITA Split Magic software.
How to Split Big PST File Easily and Efficiently? If you want to know about easy process of splitting big PST file and if you want to know about an easy to use big PST splitter, then you just have to know about PCVITA Split Magic software. This big PST split software is not only efficient in doing its function but at the same time, it is very user-friendly also that makes it a tool for all; from the experts to novice users, everyone can use this big PST split tool with convenience and comfort.
FREE! FREE! FREE! Product Trial
We not just give you a great product to big PST split files but we also give you its free trial that lets you see the product fully before buying it. You can get this downloadable version by clicking the download link given here. Split 50 items per Outlook PST file and see for yourself how PCVITA Split Magic tool performs.
Nominal Cost for the FULL Version: A small investment in the FULL working version of PCVITA Split Magic software and what you get from it is a huge benefit of speeding up Outlook and preventing Outlook corruption. Our productís full version is for unrestricted PST splitting up process. You can split any number of big PST files using this full licensed version of our software availabe at $49 only.
Features that Speak of Our Productís Uniqueness
Split big PST of Outlook 2003, Outlook 2007, Outlook 2010
Split big PST file by date, by year, and by size
Split big PST archive file, distribution list etc
Enjoy retention of Metadata (to, from, bcc, etc)
Split big PST files corresponding to folders like contacts, calendars, journals, and emails folders like Inbox, Outbox etc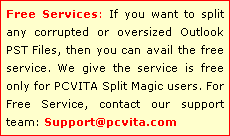 Other Recommended Tools:

PST Magic™
Come up with new features to add multiple PST files into one. Read More- PST Merge Tool
vCard Magic™
Perfect solution to convert vCard contacts to PST & PST to vCard. Read More - VCF Converter Tool

Archive Magic™
Save & protecting the data contained in email messages. Read More - PST Archive Tool

Outlook Magic™
Get it to exchange PST file into EML, MSG, VCF, TXT & HTML . Read More - PST Converter Tool

NAB Converter™
Expert tool to convert Novell address book to Outlook contacts. Read more: NAB to PST